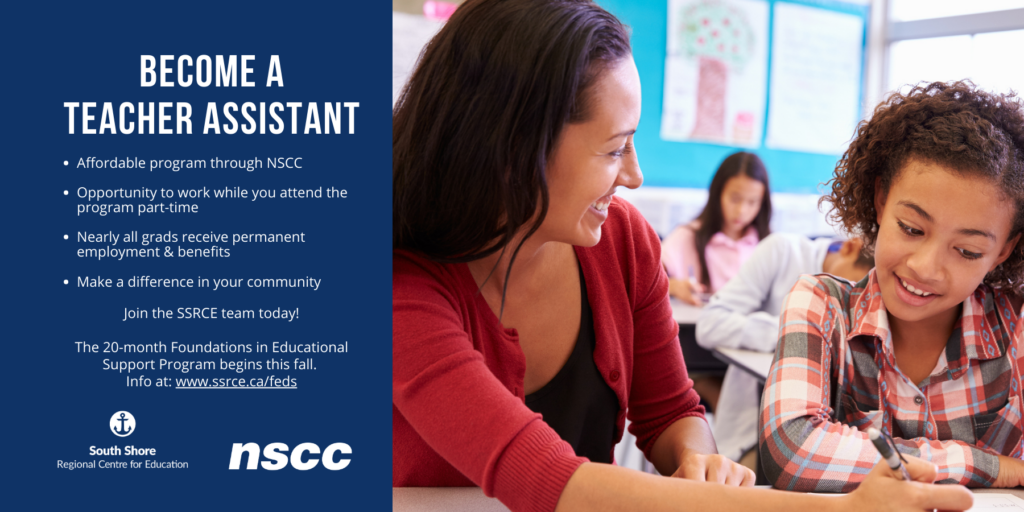 SSRCE is pleased to be partnering once again with the NSCC Lunenburg Campus to offer the Foundations in Educational Support Program (FEDS) to provide required training for Teacher Assistants (TAs).
The FEDS program aims to help develop the skills and knowledge TAs need to effectively support classroom teachers and other professionals in an educational setting. Participants will learn up-to-date best practices, including:
– How to communicate effectively
– Child growth and development
– Inclusive education theory and practices
– Classroom skills and learning strategies
– Exceptional learners & more
This 20-month customized program will follow a part-time delivery format. Course delivery will be on Campus, online and blended (a combination of on Campus and online). The course schedule will be a combination of evenings, weekends and/or late afternoons, as outlined in the following tentative Program Schedule:
FEDS Program Overview 2023 Intake FINAL
Admission Requirements
All applicants will require a high school diploma or equivalent, a recent child abuse registry check and a recent criminal records check. To express interest and for further details please contact Donna Halverson (
dhalverson@ssrce.ca
or 902-541-3080) at South Shore Regional Centre for Education for instructions on completing the required background checks, and/or submitting completed forms.