Grade 12 Graduations Permitted
School Ending a Week Early for Secondary Schools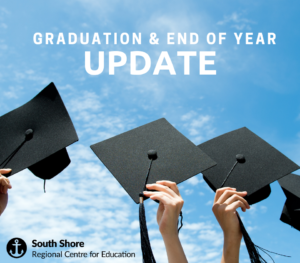 Earlier this week, the Nova Scotia Department of Education and Early Childhood Development announced Grade 12 graduation ceremonies will be permitted to take place in-person.
To ensure there is ample time to plan and conduct these ceremonies, secondary schools will end a week early. This means, high school exam week will be moved ahead one week, including provincial exams.
Final exams will now begin the week of June 14, not June 21 as originally planned. The last day of school for secondary students will be June 11, 2021. In the South Shore Regional Centre for Education, these changes apply to the following schools and grades only:
Forest Heights Community School (grades 9-12)
Liverpool Regional High School (grades 9-12)
Mahone Bay Centre Alternate (grades 9-12)
New Germany Regional High School (grades 10-12)
North Queens Community School (grades 10-12)
Park View Education Centre (grades 10-12)
Graduation ceremonies:
This year, Grade 12 graduation ceremonies will be smaller and held in schools with public health measures in place. The events will be planned according to current gathering limits, with the understanding that if gathering limits are lowered, plans will be adjusted accordingly. Schools will soon begin to plan these events and families will receive instructions from their schools prior to attending.
Prom update:
As part of this announcement, it was also shared that schools will not be organizing proms or dances this year. If community groups wish to recognize graduates with an event, they will be required to follow established public health restrictions.
Other transition ceremonies:
Any other closing or transition ceremony (e.g. Junior High to High School) can continue this year, however, they must follow existing guidance in the Back to School Plan, meaning non-essential visitors will not be allowed in schools.