On Friday May 10, 2019 students from across the province were in Halifax for the Lieutenant Governor's Respectful Citizenship Award Presentation Ceremony. Eight individuals and 7 teams received these awards and the ceremony was held at the Spatz Theatre at Citadel High School. The Honourable Zach Churchill, Minister of Education and Early Childhood Development also spoke and participated in the ceremony. Congratulations to the South Shore award recipients – Karleigh Huskins of Liverpool Regional High School and the North Queens Grade 9 Citizenship Class. Your leadership and hard work deserve this recognition!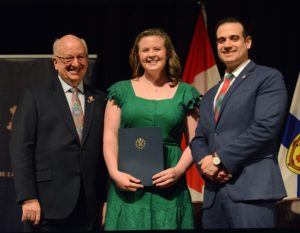 Karleigh Huskins – Liverpool Regional High School
Karleigh Huskins, a grade 12 student at Liverpool Regional High School, has demonstrated incredible leadership in many aspects of school and community life. A young woman of strong personal character, Karleigh volunteers tirelessly for Queens Manor, Nova Scotia Autism Society, minor hockey and aquatic programs. For the past two years she has volunteered as a lifeguard for her school's learning center aquatic program. Karleigh also gives freely of her time on multiple school committees, participates on school sports teams and maintains a high academic standard. Karleigh is a selfless volunteer and is truly a role model for all.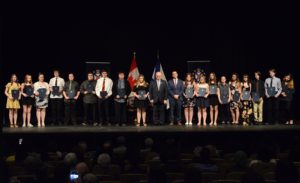 Grade 9 Citizenship Class – North Queens Community School
In collaboration with students from the grade 9 citizenship class, local Wild Cat and First Nations community and Native Council of Nova Scotia, an event was held on International Women's Day to honour and recognize the missing and murdered indigenous girls and women. After weeks of research the grade 9 students created 3 art installations and video to educate and include the community in their conversations and learning. For their final event they organized a meaningful ceremony which gathered hundreds of people to pay tribute to Missing and Murdered Indigenous Women and Girls (MMIWG). Their teacher, Julie Ramey has also demonstrated educational leadership in supporting her students through this project.
Created in 2013 by then Lieutenant Governor Brigadier-General The Honourable J.J. Grant, the Lieutenant Governor's Respectful Citizenship Award recognizes young people who show outstanding leadership and commitment to fostering inclusive environments in their schools and communities. The award is administered by the Department of Education and Early Childhood Development and is open to students in grade primary to 12 who attend public and private schools, are home schooled and registered with the Nova Scotia Department of Education and Early Childhood Development.