NOVA SCOTIA ASPIRING LEADERS PROGRAM 2021-2022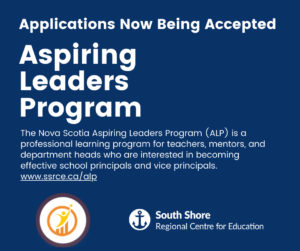 The Nova Scotia Aspiring Leaders Program (ALP) is a professional learning program for teachers, mentors, department heads, and regional centre/board consultants who are interested in becoming effective school principals and/or vice principals. The program is offered by the Nova Scotia Department of Education and Early Childhood Development, in partnership with the Educational Leadership Consortium of Nova Scotia (ELCNS) and Nova Scotia's regional centres/boards. The program was developed in response to a priority identified by regional centres/boards, and to support the commitment to teaching and educational leadership outlined in Nova Scotia's Action Plan for Education.
The ALP extends over 14 months beginning in August 2021 and includes two summer institutes and seven Friday-Saturday seminars. An eight-day residency program with an experienced school principal is integrated throughout the program. A certificate is granted following an exit assessment and successful completion of all program components.
The program has been designed to be a balance between knowledge and skills, theory and practice. Reflection and networking opportunities are incorporated into each seminar. Below is an overview of the program components.
Component

Location/Date/Time

Details

Summer Institute 2021
TBA  –  August 2021

Dates and time to be confirmed.

-Program orientation/ Insights Discovery/ Leadership Conference with Mike Rutherford
Friday-Saturday Seminars
One Friday-Saturday seminar will be held each month from September 2021 to May 2022 (no seminar in December 2021 or March 2022).

Three seminars will be offered via an on-line platform for November, January and February.

Friday sessions will start at 1:00 and Saturday sessions are full day.  Seminar locations will rotate around the province.

– School Culture and Building Relationships

–  Communication Skills

–  School Management

–  Instructional Leadership

–  Leading Change

–  Diversity and Social Justice

–  Leading Professional Learning

Summer Institute August 2022
Location TBA
Student Services
Residency Program
The residency program will take place within individual regional centres/boards throughout the program.
Mentoring with an experienced principal and applying seminar learnings through bridging activities.
APPLICATION PROCESS
Candidate selection will be based on identified criteria and an interview by a panel of regional centre/board personnel. Please download this APPLICATION FORM. The deadline for applications for the 2021-22 Cohort E program is April 30, 2021.
UPCOMING INFO SESSIONS
There will be an info session on March 29 at 3:30pm. For details please click here.
For more information please review the FAQ document and brochure, or contact:
Cheryl Veinotte, Executive Assistant, Programs and Student Services
902-541-3004